Bus Driver Bob, as his name implies, is a bus driver who drives The Doodlebops to their concert using his bus. He knows how to play the guitar, but he is shy and would only play for himself. He is also a big fan of trains. He has an identical twin brother named Rob and another off-screen brother named Obear. He was first seen in Doodlebop Photo Op and is portrayed by John Catucci.
Appearance
Bob wears a blue waistcoat, a blue & purple tie-dye shirt, blue trousers and a pair of shoes. He also wears a bus driver hat with a music note on it.
Role in series
When Bob's bus' horn honks, the Doodlebops rush to the bus to see Bob, then they perform Let's Get on the Bus. After they sing, the Doodlebops sit down and Bob drives them to the venue that the Doodlebops would be performing at in that episode. Typically, the Doodlebops talk to Bob about their day so far during the ride, before he stops in front of the venue to drop the trio off.
Episodical examples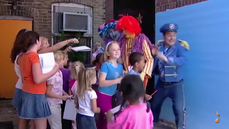 In Doodlebop Photo Op, he got his picture taken; various kids rush to him for his autograph, even going far as them chasing him down the street.
In Bird is the Word, he knows how to make his bus fly, and dodged a skyscraper.
In Very Scary, it is revealed that Bob is afraid of ladybugs.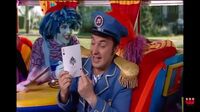 In Abracadeedee, Deedee shows Bob a card trick. Later she asks for his hat to be in her magic show. During the instrumental of the song Abracadabra, Deedee managed to get the missing things back, including Bob's hat.
In The Doodlebop Holiday Show, he turns his bus into a sleigh.
In All Aboard the Doodle Train, it is revealed that Bob is a huge fan of trains. During the song Get on Board, Rooney brought him on stage to pretend to be a train engineer.
In The Solo Surprise, it is revealed that Bob plays the guitar.
In Oh, Brother, his identical twin brother Bus Driver Rob visits Doodlebop Central.
Doodlebops Rockin' Road Show
In the Doodlebops' spinoff Doodlebops Rockin' Road Show, he drives the trio through the Doodlenet. He also announces the Doodle for a Day in each episode.
Trivia
Community content is available under
CC-BY-SA
unless otherwise noted.