Deedee Doodle is a major character in the Doodlebops. She is a Doodlebop along with Moe Doodle and Rooney Doodle. She can play both the keytar and the keyboard. She first appeared in Doodlebop Photo Op and is portrayed by Lisa J. Lennox.
Appearance
Physical appearance
Deedee is a lilac-skinned girl who has pink hair and wears a purple headband in her hair. She wears a light pink dress with several music notes going all around her dress. There is a piano pattern going along the bottom of the dress. Its sleeves are purple with pink stripes. She also wears purple leggings and pink boots.
Changes to appearance
Season 1
Deedee debuted in the first season wearing a lilac-coloured hood with fake ears attached to it, making her more cartoon-like. She has heavier makeup compared to the later seasons and her dress was more hoop-style.
Season 2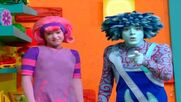 Deedee went through the biggest changes when the second season was in production. She now has lighter makeup compared to season 1 and her dress is more form-fitting. Her hair became more stylish and realistic. Starting with this season, when she gets on Bob's bus, she wears a pink and purple jacket. When she performs on stage, she now wears a very shiny outfit consisting of a glittery dress and headband.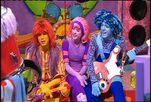 Season 3
Nothing has changed with Deedee in the third season.

Doodlebops Rockin' Road Show
On Doodlebops Rockin' Road Show, she looks the same as her live-action counterpart albeit missing the music note designs. She now has four fingers as opposed to the five fingers she had on The Doodlebops.
Description
Deedee is full of energy! She loves the colour pink, her keytar, spending time with Rooney Doodle and Moe Doodle (her brothers), and telling knock-knock jokes to Mudge, the cat that lives in the cupboard.
Personality
TBA
Quotes
"Hi Everybody!"
"I'm Deedee Doodle."
Trivia
Community content is available under
CC-BY-SA
unless otherwise noted.