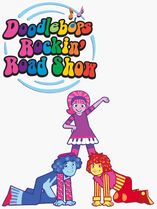 Doodlebops Rockin' Road Show is the 2010 reboot of the 2005 series The Doodlebops.
About
The show stars animated versions of The Doodlebops and Bus Driver Bob. Joining them is a small pink dog (Bop Bop), a snail (Mail Snail), and a child. In each episode, Mail Snail delivers the Doodlebops a DVD showing a video of a live-action child with a situation similar to the situation the Doodlebops are facing in each episode. The child is turned into an animated character and the child is considered a "Doodle for a Day" for the episode.
Characters
Episodes
See the episode list.
Airing history
The spinoff series aired on Cookie Jar TV on the American channel CBS from 2011-2013.
Trivia
Gallery
Community content is available under
CC-BY-SA
unless otherwise noted.