Various Kids appear in The Doodlebops, starting with Doodlebop Photo Op.
Appearance
The kids vary in gender, hair color, eye color, and height. They vary episode-to-episode in season 1, but only one kid appears during each of the twenty-six season 2 episodes, one kid per episode.
Role in series
In each episode, one or more kids appear saying "where's Moe?", or "Don't pull the rope", among other episode-related topics.
In season 2, only one kid appears in each episode.
In season 3, some of them are wearing Doodlebops pins.
They are seen in the crowd of fans outside the venue that the Doodlebops perform in each episode. They are also seen scattered in the venue as some of the many people watching the concert at the end of the episode.
In season 1, they are sometimes shown playing with the Doodlebops.
Episodical examples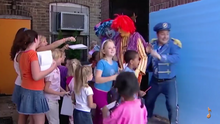 In Doodlebop Photo Op, upon hearing Mazz's quote "See you later, alligator" a bunch of kids say "After a while, crocodile!". In the same episode, various kids rush to Bus Driver Bob because they want his autograph, even going far as them chasing him down the street.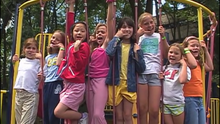 In Keep Trying, two kids say "Aww..." in response to Rooney almost giving up. In the same episode, eight kids on a piece of playground equipment yell "Keep Trying" to Rooney. The same kids also appear in sporadic season 1 episodes, yelling "Where's Moe?".
In Gibble Gobble Nabber Gabber, one of them says "gibble gobble", then we see a ship sailing across the sky, which causes another kid to say "nabber gabber".
In The Bad Day, they were chasing the Doodlebops down the street.
In Wobbly Whoopsy, a boy warns Moe, who was carrying "box towers", about Rooney's cake. Moe says "what?" then more kids warn him about the cake. Rooney eventually steps on his cake.
Other examples
In the Wobbly Whoopsy music video, they were dancing the "Wobbly Whoopsy" with the Doodlebops in a studio.
In the Abracadabra music video, the birthday girl and the guests that attended her party comprised of various kids. After the birthday girl blows out the candles on her cake, the trio rush into the scene, making them excited.
Doodlebops Rockin' Road Show
The Doodlebops' animated spinoff Doodlebops Rockin' Road Show has at least one kid in every episode. He/She is turned into an animated character and is considered a "Doodle for a Day" for the episode.
Trivia
They are played by unknown actors and actresses.
Community content is available under
CC-BY-SA
unless otherwise noted.