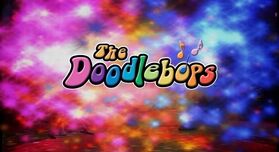 The Doodlebops is an Canadian-American live-action children's television series produced by Cookie Jar Entertainment for CBC Television. It stars the titular band as they prepare for a concert. The show features a lesson in each episode along with various skits.
History
In 2004, Cookie Jar Entertainment hired Jamie Waese to develop a music and dance show for preschoolers. Kids' CBC had expressed some interest in Michael Hirsh & Carl Lenox's concept for a band in which each character represents a different instrument. Waese liked the idea but was concerned that it was a bit soft, so he suggested that he'll "treat the band as 'glam rockers' who live in psychedelic rehearsal space" and "the [series] seemed to flow from there."
For the first season, it was revealed on Waese's and Pie in the Sky's websites that the Doodlebop Central scenes, the bus, and the concert stage scenes were sets set up in Pie in the Sky Studios. The footage of the people watching the concert was recorded at a live show hosted by Kids' CBC in late 2005, because the production team didn't have enough money for an actual concert. The former studio is mentioned in the credits of the aforementioned season.
For the the second and third seasons the show was taped at Showline Studios. The second season's credit sequence lists "Canadian Broadcasting Company; Showline Limited" under the Facilities credit, and the third season's credit sequence just lists "Showline Limited" under Facilities. The concert scenes in the second season were filmed at the Isabel Bader Theatre in Toronto, Ontario. In the third season, the concert scenes were filmed at The Oakville Centre for the Performing Arts in Oakville, Ontario.
According to a topic on Together Forever's now-defunct forum, The Doodlebops series and band were originally going to be called The Heartbeats. However, another show in Europe already had the name The Heartbeats, so the production team decided to call them The Doodlebops.
Airing history
The show aired on the Canadian network Kids' CBC from 2005-2007, then the American channel Playhouse Disney (now Disney Junior) from 2005-2009, then Cookie Jar TV (on CBS' American feed) from 2010-2013.
Characters
Main Characters
Doodlebops
Other Characters
Episodes
Trivia
TBA
Community content is available under
CC-BY-SA
unless otherwise noted.